Name: Akegata Uchiha
Nickname: N/A atm
Age: 18
Date of Birth: October 7th
Gender: Male
Clan: Uchiha Clan
Looks:
Personality: Akegata's demeanor and attitude usually depends on whos he's with. When with a superior he is very respectful and loyal. When with someone who is an ally of his he can be seen as calm, respectful almost brotherly person. He can be a good teacher as well as student. When with an enemy depending on the situation he can be a cold blooded murderer or he would toy with his opponent. On his own Akegata is an extremely intellegent indivisual who is can sometimes be shy. He also has a child's curiousity on most things that he comes across. He is an amazing strategist and possess phenomenal deduction and insight abilities. He is an excellent actor being able to portray any emotion when needed and he is very wise as well. He also has a very strong sense of justice which helps him push on forward in assignments.
Clan Information
Clan Name: Uchiha Clan
Kekkei Genkai: Sharingan is the clan's eye which gives them the ability to see the "colors" of chakra, allowing them to analyze and copy their opponent's skills, along with a number of other abilities. Only a select few members of the Uchiha clan manifested the Sharingan. Due to their natural affinity for battle, and their proficiency with eye genjutsu, many ninjas considered it more tactically favorable to flee rather than face an Uchiha shinobi in one-on-one combat. Among the techniques granted by the Sharingan, the Izanagi is deemed to be forbidden, due to it rendering the user blind in exchange for temporarily manipulating reality and fantasy within the user's own personal space, such as turning injuries and even death inflicted upon the user into mere illusions. Though the clan was feared for their Sharingan, the eyes have also been transplanted into various characters outside the clan.
Madara Uchiha was the first to develop an advanced form of the Sharingan, the Mangekyō Sharingan, which can be activated by the pain of losing close friends or family members. However, frequent use of the Mangekyō Sharingan deteriorates the user's eyesight and results in blindness. Only by taking the eyes of a sibling can one's vision be restored. Itachi indicated that the intricacies of the Mangekyō Sharingan were only discovered after years of trial and error, implying that many Uchiha throughout history had made the attempt to gain the Mangekyō Sharingan
Clan Symbol: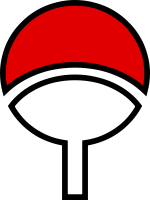 Clan History: The Uchiha clan descended from the elder of the two sons of the Sage of the Six Paths. The elder brother was born with the Sage's "eyes" and was gifted with powerful chakra and spiritual abilities. When it came time for the Sage to choose a successor, he questioned the two on what course of action they would follow to bring order to the world. The elder believed that might was the way to bring peace, while the younger believed love was the way. The Sage favoured the ideal of the younger brother, and therefore designated the younger as his successor, causing the elder to be filled with jealousy and hatefulness. From this hate came what Madara calls the Curse of Hatred (憎しみの呪い, Nikushimi no noroi). From the younger son descended the Senju clan who would be the eternal rivals of the Uchiha.
Before the founding of the ninja villages, the Uchiha were one of the many mercenary clans for hire. Because of their Sharingan, the Uchiha clan came to be known as one of the two strongest clans, the second being the Senju clan. Madara Uchiha was particularly powerful, and, upon attaining the Mangekyō Sharingan, he took control of the clan. Under his leadership the Uchiha grew stronger, conquering whatever clans they came upon
Rank Information
Rank: Jounin (S-ranked)
Village: Konoha
Skill Information
Skill Speciality: Ninjutsu, Genjutsu, Fuuninjutsu, Kenjutsu
Main: Ninjutsu
Sub: Genjutsu
Elemental Affinity: Katon (Fire), Raiton (Lightning), Doton (Earth)
Special Characteristics: Genjutsu Mastery, Precognition Ability without Sharingan due to his Sharingan he has become used to predicting moves before they happen but by training himself, he was able to do this without the Sharingan by watching the opponent very closely and assuming their next move by the slightly movements. High Speed Motions due to Kenjutsu Mastery. Immense Stamina due to Shukuchi usage.
Styles
Name: Mayakashi Ken
Rank: A
Type: Kenjutsu
Element: N/A
Description: Mayakashi Ken or the Deception Blade style requires fast a silent motions. One who has mastered this style gains tremendous speed, riviling that of the 2nd gate. When this style is masters it allows the user to utilize their full speed without making a single sound. Also when this style is masters it masks the users chakra making it extremely difficult for normal shinobi to notice the user and giving opponents with doujutsu that could detect chakra a hard time in pinpointing the user.
Weapons
Name: Hateshinai
Appearance: A standard looking katana blade.
Rank: A
Special Abilities: The first noticable ability of Hateshinai is its ability to cut through most material with relative ease, including material such as steel and diamond. A second quality is the sword itself is made of a unique material that is unbreakable and does not retain heat or any other temperature changes. Like most blades the sword can conduct electricity. However Hateshinai's strongest ability is its ability to absorb other items through something called contact fusion and gain their qualities and techniques. The sword's appearance doesnt change however, keeping its deceitful look.
Origin: Akegata found Hateshinai during one of his travels. After learning of its abilities he relized it was a sword from a legend he had once heard. It was a weapon that existed before the time of the Sage of the 6 Paths and had adapted to gain many numerous abilites, however when Akegata found it, it was just a basic Katana.
History and Roleplay Sample
History:
~Birth Arc~
Akegata was born in Konogakure no Sato as a pureblooded Uchiha. Both of his parents were strong Uchiha ninjas that not only had mastered their Sharingan to its full potencial without the Mangekyou, but also mastered the art of being a ninja and each specialized in their own techniques. Akegata's dad was a skilled kenjutsu master and his mother was an exceptional genjutsu user. Akegata while growing up was a very curious and creative child and from the very beginning his parents knew he was capable of great things. Not even a year old he was able to walk and spoke simple words like mom and dad. BY age 5 he had already began studying the ways of a ninja and basic ninja training with basic jutsu and weapons. By age seven he entered the academy.
~Academy Student Arc~
By the time he had entered the academy Akegata was already roughly genin level. Because of his previous training and studying his grades were exceptionally high, passing with flying colors and being number one in his class. During the time he spent in the Academy he started training kenjutsu with his father. He was extremely popular in the academy however he wasnt really that social. It wasnt that he was antisocial, he was just a shy child and although he was a prodigy he was also bullied for being "too good", which attacked his self eestem. He seemed somewhat shealtered and although it didnt seem like a problem now it would definately be one when the time finally came for him to be a genin.
~Genin~
Age 12 and a Genin, a young Akegata had already developed his first tomoe of his Sharingan. Because of this his father train him harder, working on his fundamentals and core techniques, making sure he wouldnt make any mistakes. Akegata started suffering from fatigue and exhaustion around this age as he worked hard as a Genin and then worked twice sometimes even three times as hard when he went back home. He developed the second tomoe of his Sharingan due to all the training he was put under. When he developed this his mother decided she should work on him with sound jutsu as well as genjutsu. Because of the hard training at home he hardly interacted with his team, however his sensei noticed the stress the boy was under and after a few years things seemed to let up. Akegata wasnt as shy and he communicated more. Now 14 he was a normal kid. He wasnt put under intense training at home as his parents noticed he was a splendid ninja and decided to finish his training and let him walk his own path. Akegata entered the Chuunin exams and passed, becoming a Chuunin and known as one of Konohas powerful youths.
~Chuunin Arc~
Now a Chuunin Akegata decided he should work on his own techniques. He developed strong genjutsu and sound based ninjutsu at this point. He also worked on his elemental jutsu. Practically relized as a Jounin rank, Akegata often accompanied Jounin and even ANBU and Hunter Ninjas on missions while still only being 15. He made new friends and eventually made enough money for him to move out and start living as a man.
~Death and Rebirth Arc~
While still a Chuunin, Akegata was sent on an extremely important Recon mission with one of his best friends and two other ANBU. They were sent to watch over a trasaction between two unknown sources that they heard about through an intercepted message. It seemd they were going to interact with rogue ninja in the forest. The mission went well until they discovered their location was compromised and discovered. They were soon ambushed and a battle began. It was during this battle that Akegata gained the final tomoe to his Sharingan. It seemed the battle was in their favor however the tides eventually turned and both the ANBU were killed and Akegata and his friend greatly injuried. It seemed that it was over when Akegatas friend whiseped something to him. He whispered that Akegata should kill him and attain Mangekyou Sharingan and escape. Akegata argued against it, however as the enemy approached them he had no choice. His friend let him know it was okay and Akegata stabbed with him a kunai throught he heart. The enemy ninja were curious why Akegata attacked his partner and decided to attack him. Akegata looked up slowly and his eye bled..suddenly a black flame engulfed the enemy ninja and part of the wood causing a massive forest fire. Akegata managed to get out of the fire and survived passing out elsewhere. When he awoke Akegata travelled a bit and this is when he found his sword Hateshinai. He came back to Konoha and was immediately hospitalized.
~Jounin Arc~
At the hospital, Akegata was promoted to Jounin rank and was healed from his injuries. Now he serves as one of Konoha's many powerful Jounin and is known as a powerful prodigy from the Uchiha clan.
Rp Sample:
Spoiler: